Recap: LOST 'LeFleur' (S5,E8)
Thursday March 5th 2009
by Paul Armstrong
Wow. Wow. Wow. If this imag doesn't make you excited about this episdoe then either you aren't paying attention, or you're not really a fan of the show. I expect surprises and revelations, but nothing that does both simultaneously. All I can say is that if you missed this episode, find a way to watch it — now.
LaFleur
What We Learned
Giant Statue! Giant Statue!!
For all of 2 seconds we get a glimpse of the full statue (which belongs to the 4-toed foot we've seen in a Season 2 episode), right after they realize that Locke is somewhere underground
As long as it takes
Realizing that something has changed, and Locke suceeded; the gang realizes that they must wait and find Locke, because he was right.
It's 1974 and a good day to put a sack over someone's head and shoot them
After barely contemplating the statue, everyone above ground is transported again; but this time differently (as they all realize). They find Daniel sitting and mumbling about Charlette (dying and then disappearing). The gang make way toward the beach and stumble on some "Others" attempting and execution; which Julia/Sawyer stop.
It's 1977 and Saywer is Jim
We jump to 3 years later (still in the past) and see a drunken Horace throwing dynamite. This alarms some "observers" who tell a dude named Jim; or Sawyer; who gets Jin (what's his new name?) and pick up Horace before making too much a scene.
Trust no one, not even a woman who was saved from death
After being rescued from execution, Amy proceeds to babble about a "truce" and buryhing the bodies and bringing back her dead husband. She takes everyone back toward the camp, only to trick them at the "sonic" fence. They all wake up with Horace questioning who they are. Sawyer does what he does best and tells them about a shipwreck and makes up the name Jim LeFleur.
Richard Alpert, again
Alarms go off and everyone runs for hiding. And Richard Alpert comes walking into view. He and Horace have a chat about the broken truce and what has to happen next. Sawyer approaches Richard, confessing to killing the men while blowing Richard's mind with knowledge of the past (though, I must say, Richard doesn't seem as surprised as I'd think). Horace recommends that they all go back on the submarine in 3 days. Julia wants to jump on the chance, but Sawyer wants a sidekick.
Evertying seems rosy and nice
Jim/Sawyer helps Amy as she goes into labor, to find out that her baby is breech, and the "doctor" there has no idea what he's doing. Jim/Sawyer immediately goes to Juliet and tells her the situation; she reluctantly agrees (fearful of her track record of pregnant woman on the island and them ultiamtely dying). But everything turns out just fine. Also -- Charlette's here, as a little girl (I suppose she cannot exist as 2 differnet people at the same time and thus disappared?)
Love lost and love gained
Sawyer and Juliet seem truly happy together, but you know that Kate (and Jack and Hurley and Sayid) are on their way. Sawyer gets a call from Jin, and for some reason doesn't tell Juliet; and goes to see his friends again.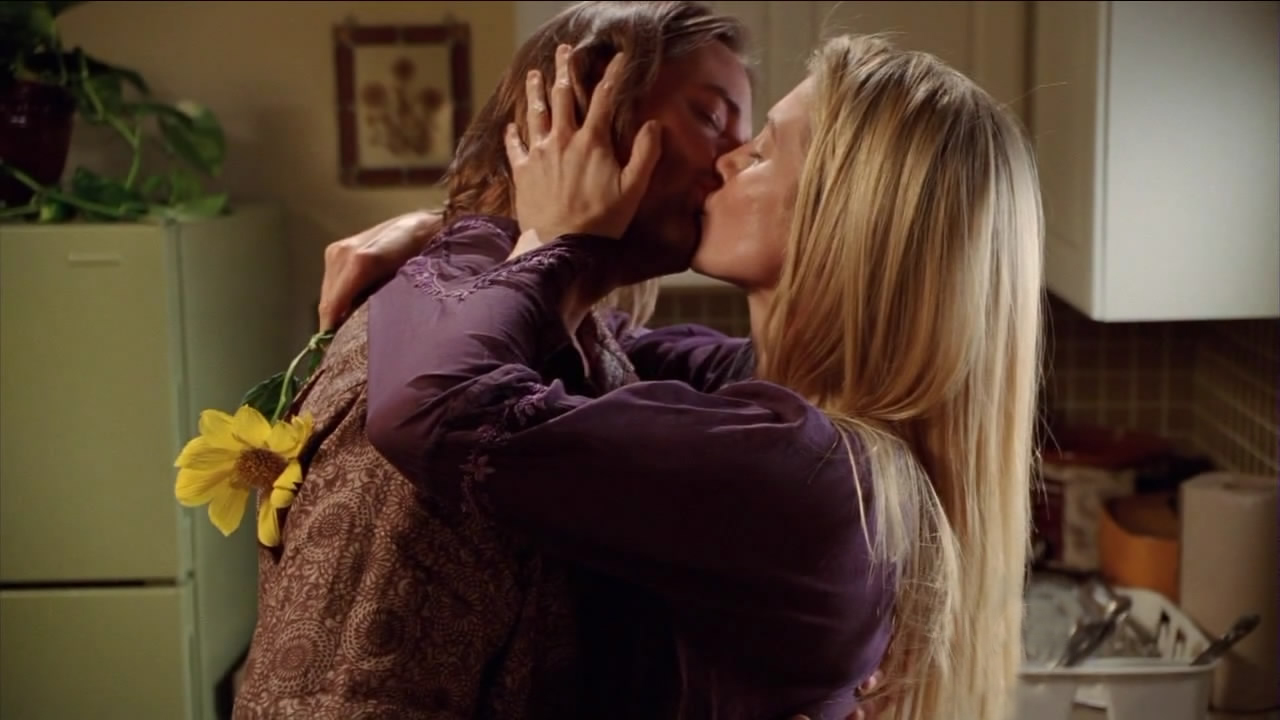 What We Don't Know
The Statue
What time period where they in with the statue? Apparently its the Egyptian god Horus (which explains the need to show the necklace of Amy's dead husband Paul). The statue must have a link to the Temple, and the strange "sickness" that seems to come over people when they enter. But about the black smoke monster? Is it gathering people to the temple, to brainwash them?
Richard Alpert
The more you see of Richard, the less he seems to make sense. How does he never age? Does he really not know who Sawyer is, or is he pretending? Are he and Ben in cahoots to overthrow the Dharma Intiative (and stop some ancient prophecy, that perhaps the temple is all about in connection with John Locke?)
Why 1974?
Why is everything conveining on 1974? What happens now (then) that makes it the central time for everyone to appear. This must be the battle to which Charles Widmore eludes.
What does this all mean to the present (or future)?
If all of the survivors are now suddenly in 1974, but still crashed in the future -- does this mean that by changing anything of the events of 1974 that their present is all fake, or alternate reality?
New Survivors
Are these new survivors plants by Ben; to help him in fighting a battle he obviously knew was coming (a battle about what though, against?)
There is so much more to ponder and think about ... but I can't even process.
What are your thoughts?