Recap: LOST 'Lighthouse' (S6, E5)
Wednesday February 24th 2010
by Paul Armstrong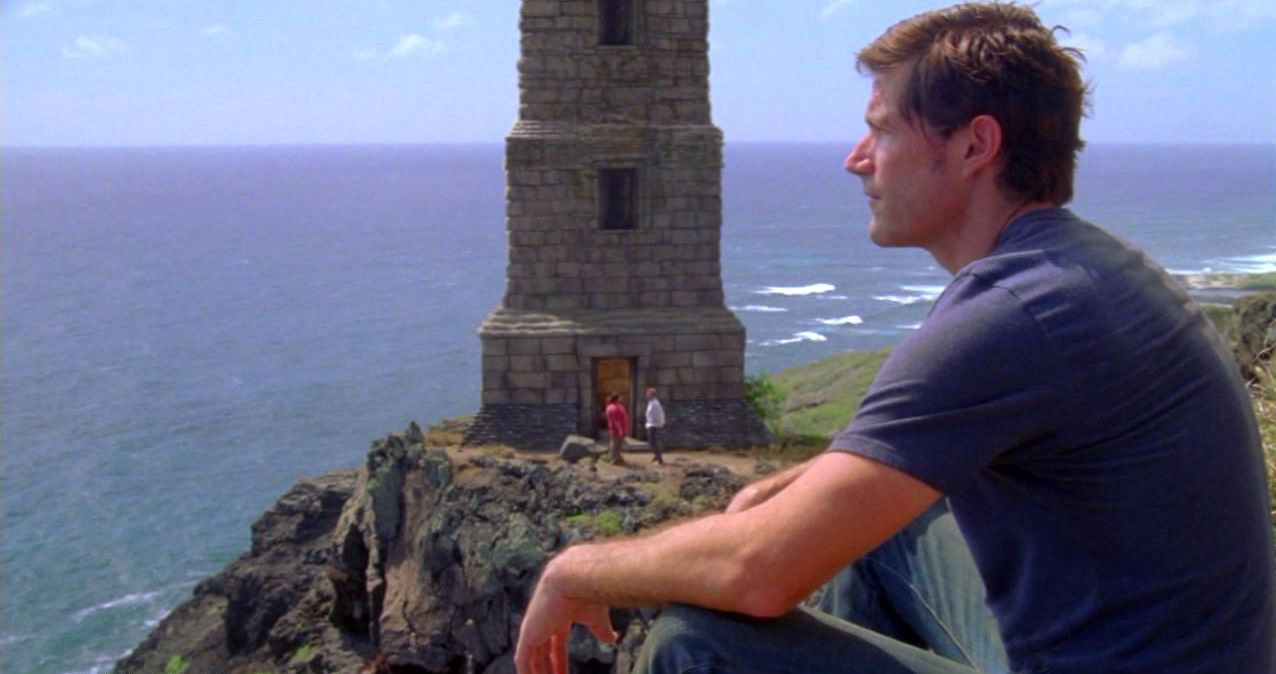 Dude, did you see that thing with the names and the numbers and the reflections and the time travel and the scar and the weird glances between people and the cryptic messages and how remember in Riven when it was just like this and this guy thinks that this other guy isn't the guy who he says he is and how there's a bad person who's going to destroy everything and OUCH. I need an aspirin and a shot of whiskey ... Who's ready for this?
It will become quickly obvious that things have escalated quickly (no, no one was killed with a trident)
What We See
We see Jack observing a scar which is in this multi-verse is related to an appendectomy (but in the reality we know wasn't it due to the plane crash, when he had Kate help stitch him up?)
Jack has a son, about 11 or 12, named David. Was obviously once married (to whom?).
While looking over Christian Shephard's will, Jack's mother discovers a name "Claire Littleton" (so, that much is still true in the multi-verse)
Hurley is still seeing visions of Jacob. Jacob needs him to "bring someone to the island" for him; and bring Jack along. In very Hurley-ish behavior, he writes all the directions on his arm ...
Jack tells Sayid that the temple-dwellers wanted to poison him. My guess, that probably wasn't a wise thing to say, especially with Sayid being infected with "the darkness".
In order to convince Jack to come with him, Jacob tells Hurley to say "You have what it takes" (which we learn in multi-verse is the exact opposite of what Jack always heard from his own father, "You don't have what it takes")
Claire is batshit crazy. He killed a guy with an ax! An axe right in the gut — for not believing him that the Others don't have Aaron!
In an effort to save this poor man's life Jin tells Claire the truth, that Kate took Aaron 3 years ago (I mean, nobody knew where Claire was, we all thought she was dead, or exploded or whatever, right?) It doesn't matter, batshitClaire kills the guy anyway, which makes Jin rethink his truth-telling bit and he claims "Oh, I just made that up - don't-kill-me-crazy-lady".
Hurley and Jack find what they were sent to find. A Lighthouse (very Riven like). Inside this lighthouse is a donkey-wheel, sort of. On it are numbers and names (which I assume match what is in the cave where Esau/Smokey/Not-John-Locke too Sawyer) but as you turn the dial (which moves the mirrors) you see different things in the reflection. Jack notices it; and tells Hurley to go to "Shephard" (23). He sees the house where he grew up, freaks out and smashes the mirrors.
Jacob tells Hurley that it's ok and that basically it was all a plan to get Jack to start thinking a bit deeper about his own role in all of this island stuff. Jack just stares at the ocean (which is what any good "thinker" does)
Jacob tells Hurley not to go back to the Temple because someone bad is coming there — and that they're all going to die and there isn't anything Hurley can do to stop it (but I'm guessing they still will try because that is what Jack does)
Jin promises to bring Claire to the Temple, to show her Aaron (since he lied and says that where he is; I'm guessing he believes that they'll be able to subdue her in some way). Claire wants to bring her "friend".
Claire has a friend — and guess who it is? Not-John-Locke of course.
Awhile back, when we first saw Jacob on the beach watching the "Black Rock" sail toward the island I suspected that these two men, the ying-yang, the black and white, the good and evil; might in fact be Jacob and Esau and the island is the birthright that Esau so desparately wants back from his brother (Genesis 27:41). I'm assuming this is part of the mythology, along with a healthy does of Egyptian and Greek mythologies. I'm also assuming that Jacob intends to bring Christian to the island (which is probably be why he's missing in multi-verse). Also, the more I watch this season the more I'm convinced that Damon and Carlton are fans of Myst/Riven (and if you've never played these games, you really missed out).
Theories
Who is the "someone bad" that is coming to the Temple, one assumes it is Not-John-Lock/Esau/Smokey, or is it Claire (she is batshit crazy afterall)?
Christian Shephard is a key player.
What has happened to Charles Widmore, Dharma, the battle to get back to the island and control it -- are they all working for Esau/Not-John-Locke?
Where was Sawyer? We see NJL visit Claire, is Sawyer right behind him?
What does the Lighthouse do? Aside from "seeing" things, did it also "transport" Jacob to these areas? is it a portal? How else will this "friend" of Jacob's get to the island.
What will become of Kate. She's neither with the Temple of Doom people, nor with Not-John-Locke; she will obviously be forced to decide between Sawyer and Jack again.
What are you thoughts? I rather enjoyed some of the twists, and my PMS attitude from last week was sequelched a tad bit. What about that "next" preview — So intense we can't show you ... (lame right?)