Recap: LOST 'Ab Aeterno' (S6, E9)
Tuesday March 23rd 2010
by Paul Armstrong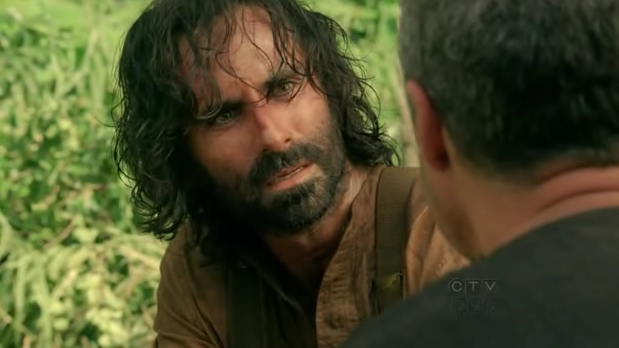 So I missed a week of recapping last week, in what to me was a toss off episode with barely enough interesting information to fill 10 minutes (let alone a blog recap). And now I'm faced with the task of attempting to recap what is without a doubt the most revealing episode of LOST to date (one might even say they blew their wad; I wouldn't, but "one" would).
Seriously, what? What happened? What ... I mean is it ... but why with the ... and that beard! I don't know what to say. What do I say? I am at once shocked and amazed (and not just at Richard's beard). So this was basically an episode where the creators are telling all us grumblers (me, in particular) to shut up and see how this tastes. And how did it taste you ask? Well, a lot like gun powder and chinmeat (because my face exploded).
Richard, Richard, Richard, Richard. Oh poor Richard — well, aside from the amazing beard that ultimately wants to break free from it's own hell behind the cork that is Richard's face — has had such a long and painful life. He kills a doctor for medicine for his wife who dies anyway; gets bought into slavery to ship off to the "New World" (which really isn't that new, if its 1867) and crash lands on an island where everyone on the ship is killed by black smoke — where else could he be but in hell?
Esau (for lack of a better name) is evil. He's trapped and kept from corrupting the world by the island and Jacob (evil is the win, the bottle is Jacob, the island is the cork). He is the black smoke, but also not the black smoke. The body of Esau is what you'd call possessed by evil. Evil wants off the island, but to do so he has to kill whomever stands in his way (Jacob or anyone who suceeds him).
Jacob keeps bringing people to the island to prove to Esau that people aren't inherently evil, or born in sin, to prove that people can do good.
Richard becomes Jacobs' right hand man, granted eternal life (which somehow Jacob and grant, but he can't forgive sins or bring people back from the dead), to help bring "good" people to the island.
How any of this fits with Dharma Initiative or Charles Widmore or the entire other parrallel reality or zombie Sayhid remains to be seen, but, we at least have a good idea of what the island is (or isn't). It appears to be highly spiritual and symbolic in nature. Other than that ... my brain is fried. I have a new dog whinning constantly, a wife exhausted and frazzled and crying, a baby getting a cold, and mounds of work and bills and taxes and things that make me feel like my own home is mini-hell.
So, what did you guys think?