Recap: LOST 'Across The Sea' (S6, E15)
Wednesday May 12th 2010
by Paul Armstrong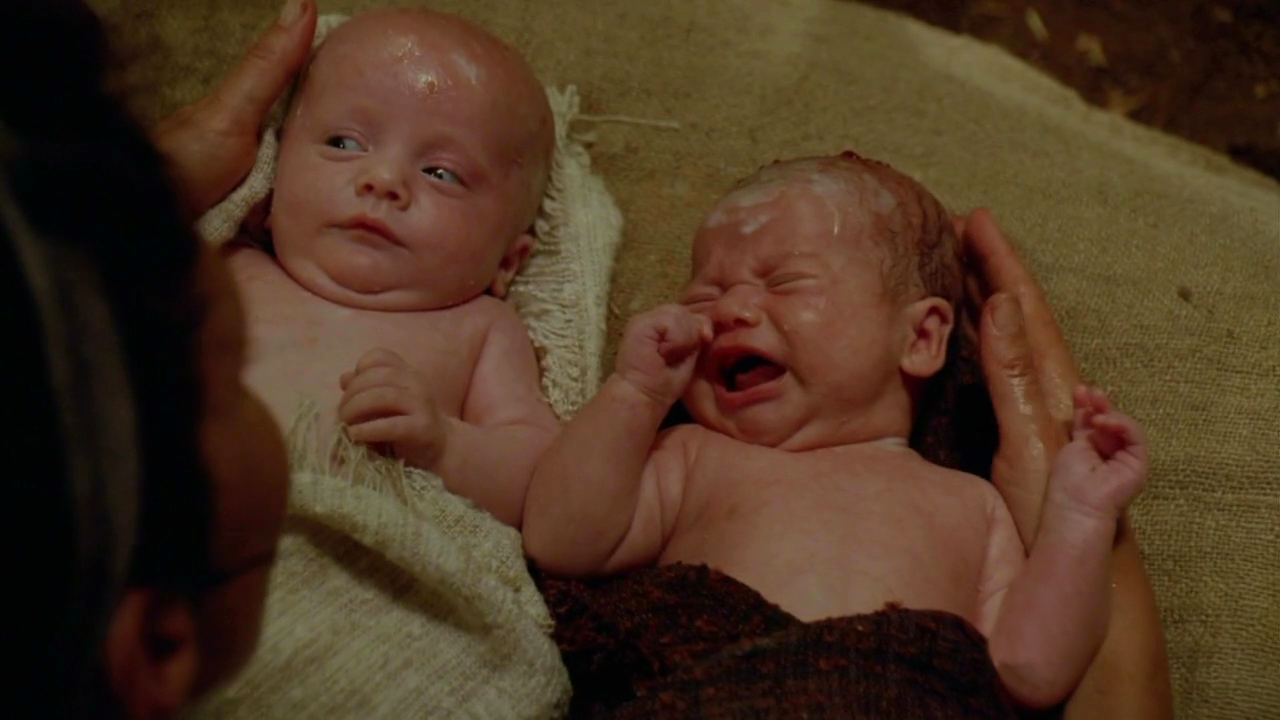 TWO roads diverged in a yellow wood,
And sorry I could not travel both
And be one traveler, long I stood
And looked down one as far as I could
To where it bent in the undergrowth;
What in The?
Some lady washed ashore on the island (who knows how long ago), she had babies, and was killed with a rock (aren't they all?).
They're twin brothers, duh.
Their new mother says to the twins that they're special and they're on this island to protect the it from evil men, to kepp them from finding this cave of light.
A cave of light. I'll say it again. A cave of light. I really honestly expected Falcor to come flying out, laughing and screaming with Atreyu on his back (how awesome would that be?)
Noname learns the truth about himself and his brother from his ghost mom.
He leaves.
Jacob doesn't get it — but he's stupid because he has faith.
30 years pass, the brothers play a game together with white and black pieces. Jacob doesn't think people are bad, Noname thinks they are. Jacob is stupid because he has faith.
Noname is smart and special and finds the electro-magentic pull and know how to harness it and use it 150 years before man even figures out how to get into space. He's not smart — it's S-MART.
Mother kills everyone in the evil man village and buries the electro-magentic well to the light.
Noname kills his "mother" which causes Jacob to throw, or rather let me slowly be pulled, into the light cave.
The blacksmoke comes spewing from the light cave, leaving behind a dead Noname (who joins his mother in the cave tombs to be discovered later by Jack, Kate and Locke)
Jacob is protecting the light cave.
LIGHT CAVE! Is that not replete with euphisms to Lindsay Lohan and her netherregions?

So here we have it. The (proverbial) pieces are laid out on the table, and we're presented with the "it' of the island. The everything. The black and white. White is faith, goodness, innocence, naivete, blind and simple. Black is truth, earnestness, exploration and intelligent. Jacob is white faith. Noname is black truth. Not a perfect ying or yang. Not complete opposites. But this what the show is saying about faith versus science. Science wants truth, faith adheres to lies (the lie that she was their mother, the lie that they were special, the lie that there was nowhere else but the island).
And, oh yeah, people are the absolute worst.
There is nothing revelatory about this view of faith, or the world; it's predominant and certainly isn't surprising. Someone with faith just accepts what he is told as fact, as truth, and will seek to repress anyone who attempts to "prove" to them otherwise. While science must always seek the truth of the world and man, intelligently finding ways to reveal it. And then there's this tunnel of light:
Where is the mother come from? Is she God? A god? A mushroom?
Who built the wheel that allows people to travel through time?
Is the blacksmoke the soul of Noname? Or just evil unleashed?
Where did the "light" come from?
How is a cave of light the source of life and death?
In the end it's obvious that there will be no commitment to the show answering any questions, only half-assed attempts at being pseudo-intellectual by open-endly saying something about faith and science and the nature of man and his ability to make the polar icecaps melt by using cars and farting alot into boxes, and calling it a humanistic approach to life and how nothing is ever that easy to answer or define and it's up to you, the viewer, to make your own conclusions about the show — because we've all watched the show for 6 years just so that we can answer all the questions ourselves — heaven forbid those who have the control, insight and ability to give solid conclusions ACTUALLY do that because that would be too definitive, and the world isn't black and white, it's gray and people are the worst (you know the enviornment and war and death and cars and houses and airplanes and caves of fucking light).